From a Researcher's Point of View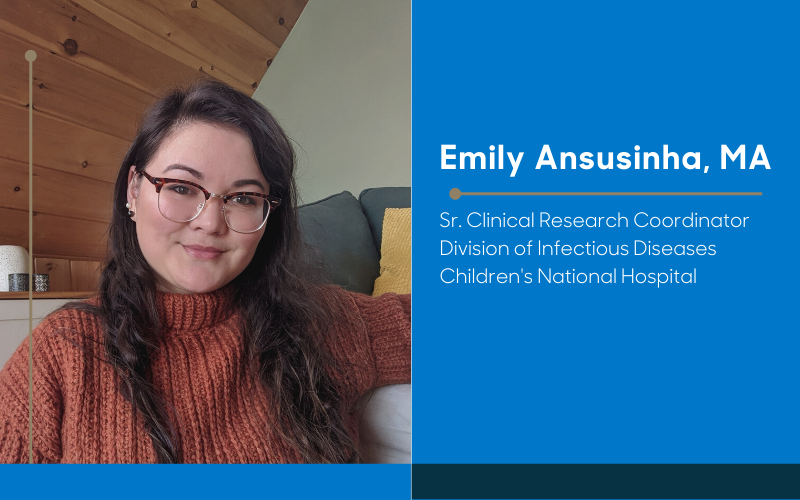 Emily Ansusinha, MA joined Children's National Hospital in November 2017 after working as a research coordinator and manager in the CTSI at Wake Forest Baptist Health for 4 ½ years. Emily is currently working in the Division of Infectious Disease as Sr. Clinical Research Coordinator.
Why or what made you go on the path of a career in research?
While I was completing my Master's Degree in Bioethics, I was looking for healthcare-related positions. One of my classmates was able to connect me with a friend who was leaving their research coordinator position and encouraged me to apply. At the time, my only research experience was in the Humanities – working at a museum and studying ancient Mesopotamian artifacts – so I didn't expect to be offered the job. Luckily for me, they gave me a chance and I started out in the CTSI Coordinator Pool. During my time there, I worked on studies in Pulmonology, Nephrology, Geriatrics, Neurology, and other specialties. I always enjoyed working on pediatric studies, so when I planned my move to the DC-area, I knew that Children's National was where I wanted to be!
How did you learn about Participant and Clinical Interactions (PCI)?
Our division regularly utilizes PCI services for our research studies.
Tell us about your current research projects.
The PCI has provided support services for almost every physician in the Division of Infectious Diseases at Children's National. One of our newest projects, the DISRUPT Study, is for patients with S. aureus blood-stream infections; participants are randomized to receive study drug or placebo in addition to standard of care antibiotics. We recently enrolled our first participant, and PCI was instrumental in obtaining and processing PK samples and other necessary labs.  The COVID-19 vaccine trial required the assistance from every member of the PCI – the coordinators screened potential participants and managed study visits; the nurses drew labs and administered the vaccine or placebo; and the lab team processed and shipped so many research samples!
Why did you nominate PCI for the Patient Experience Activities this year?
I highly recommend the PCI team for the Core Values Award in recognition of their dedication to enriching the research staff culture, facilitating successful study outcomes, and making Children's National a leader in pediatric research. Without the support of the PCI, many Principal Investigators and research teams would be unable to conduct their studies. The services they provide are an invaluable resource whether a project is investigator-initiated, federally funded, or an industry-sponsored clinical trial.
There are a lot of moving parts to clinical research, and it can be overwhelming to keep everything balanced, especially for new investigators or coordinators. Even those with research experience from prior employment elsewhere need to learn the processes at Children's National. The PCI team is always happy to share their knowledge on navigating the intricacies of research processes, and if they don't have the answer, then they know who to contact for assistance. Elena Gibson, Nurse Manager of PCI, deserves special recognition for her role in improving the research work culture. She is not only an advocate for her team members, but for all research staff. Elena is leading an effort to examine workload and job-related stress among research employees at Children's. Her initiative has brought together coordinators and managers from more than ten departments to work together on projects that will increase job satisfaction, research staff training and continuous education, and research resources.
The PCI team handles research studies from start to finish. The research coordinators are well-rounded and equipped to handle regulatory start-up, participant visits, and data management. They play an essential role in protecting patients' rights and ensuring that patients and their family members understand the study details. The nursing team excels at engaging with participants and keeping them calm before blood draws, drug administration, and other procedures. Jayna Bryant, Research Tech III is an asset for research studies involving lab sample processing and storage; her attention to detail and willingness to help means study teams can trust that their samples and shipping needs are in safe hands. Ianka Laidlow, Program Coordinator,  is another vital member of the PCI team. She is the first face that people see when checking in, and she quickly sets them at ease. Not only that, but she makes sure that all the required orders and paperwork are completed to be compliant with patient safety guidelines. The entire team makes sure that participants know they are superheroes for participating in research and helping other kids in the future. Every role contributes to an investigator's ability to gather the necessary data for a successful study.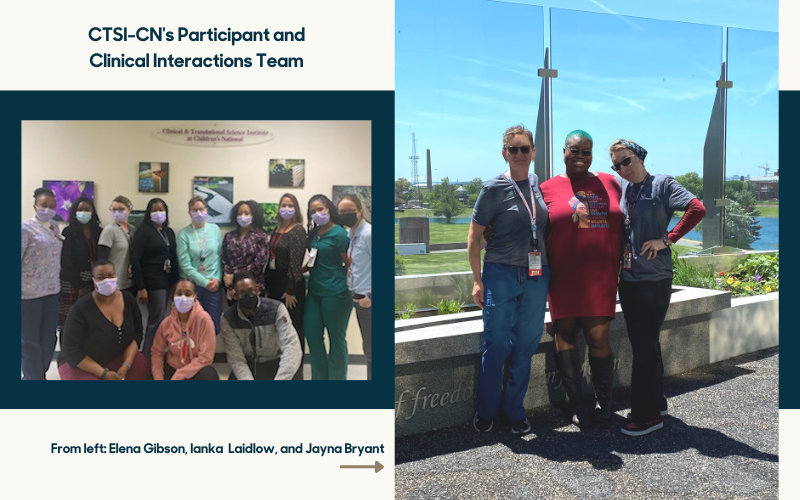 While working with the Infectious Disease division to enroll patients in the Pfizer COVID-19 study, the PCI went above and beyond to make it a success. Seventy-eight participants were enrolled in the study, and in the first year of the study, Children's National was one of the top ten global enrollers in the youngest age cohort (6 to 23 months). The window for enrollment was very short and extremely competitive; to meet our goals, many members of PCI stayed at the hospital well past their normal scheduled hours to accommodate families with working parents unable to come earlier in the day. Additionally, the team adapted to new instructions quickly to address changes in the study timeline and data deadlines. The study's challenges and long hours were met with a determination and passion to do what was best for Children's National patients. The PCI is also working on the Pediatric COVID Outcomes Study, which is a high-volume, high-profile project with complex study visits taking place five days per week. The study's enrollment goal is 800 participants, and over 300 participants have been enrolled so far. On average there have been twelve new enrolled participants each week. For such landmark studies, it is imperative that Children's National perform well – not only for our patients, but to establish a lasting relationship with industry sponsors so Children's National will continue to be selected as a site for future studies. Without the support and hard work of the PCI team, this would not be possible.
About Participant and Clinical Interactions (PCI)
PCI provides support to research investigators and teams throughout Children's National. Their staff is comprised of research managers, coordinators, nurses, and lab technicians who keep clinical trials running smoothly – handling everything from administrative and regulatory tasks to drug administration and lab processing/storage.
Learn more about PCI.