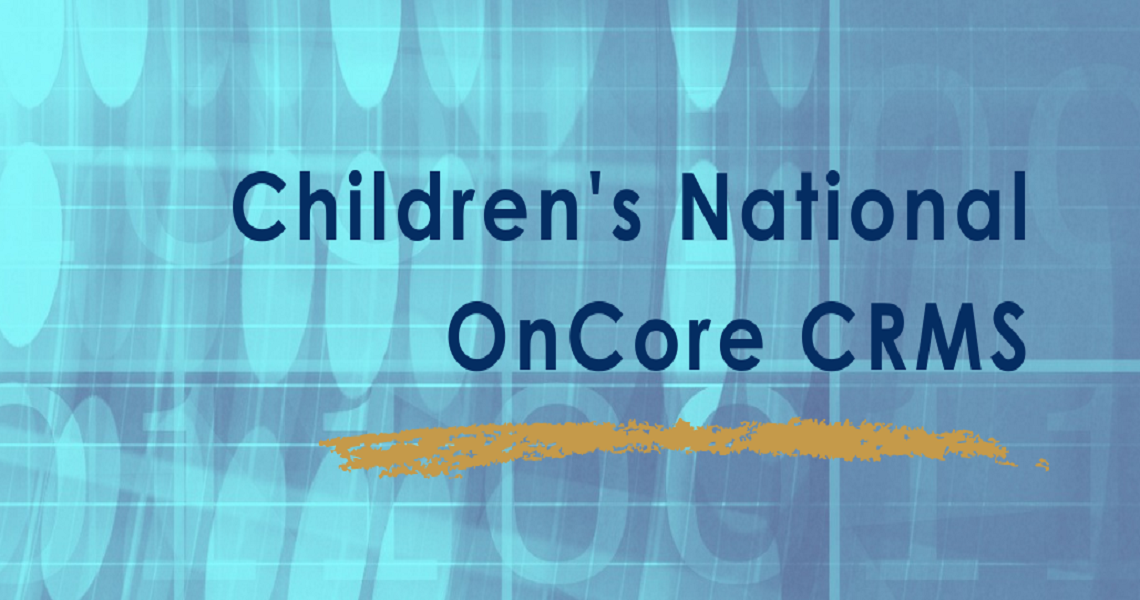 CTSI-CN has facilitated and supported the implementation of OnCore®, a clinical research management system (CRMS) developed by Advarra, for research teams at both CNH and GW. OnCore is a single, centralized, web-based platform to manage clinical research and facilitate fiscal and operational compliance.
---
What is OnCore?

OnCore is a Clinical Research Management System, or CRMS, that:

Enables users to manage protocols and study subjects in one place
Supports clinical research billing compliance
Is HITECH compliant with customizable security and access roles

Can integrate with EMR and other research administration and financial systems

Why use OnCore?

Research at Children's National Hospital is currently managed using a variety of paper forms, Excel spreadsheets, and our recently implemented PowerTrials module. A CRMS will integrate all components of research activity and allow us to move away from paper and Excel-based processes. With OnCore, we will have real-time access to the status of clinical research being conducted across Children's National.

The OnCore CRMS module will benefit PIs, study teams, and administrators involved in regulatory and financial functions. OnCore allows us to:

Effectively manage protocols
Improve study subject management
Streamline study start up timelines
Strengthen research reporting
Simplify research billing compliance
Streamline operations & simplify data management

Children's National will utilize one additional OnCore module called eReg (electronic Regulatory management with the ability to share documents across studies and quickly and easily route documents).

Children's National will utilize OnCore to manage prospective human subject clinical research. What research qualifies to be managed in OnCore?

Rules for Entry into OnCore

Required in OnCore
Excluded from OnCore

All Studies that meet the NIH definition of clinical research, which includes:

Hypothesis driven, prospective human subjects research
Non-hypothesis driven, prospective clinical intervention studies (e.g., registry with a blood draw or imaging, Phase IV trials, Post-marketing Surveillance

All cancer-related research deemed to be reportable per the Cancer Center Support Grant (CCSG) Data Guide must be tracked in OnCore.

Unless studies 1) meet the NIH definition of clinical research, 2) meet criteria for CCSG reporting, or 3) have billable services, they will be excluded from OnCore.

Examples include:

Retrospective chart reviews
Data collection studies and biobanks (de-identified)
Single-subject case studies
Single-subject expanded access studies
IRB-exempt studies

 

Access OnCore

OnCore is available at this website: https://cnh-oncore-prod.advarra.app/

You will only be able to access OnCore while logged into the Children's National network. If you are working remotely, you will need to be logged into the VPN. Remember to bookmark the website!

Your username is the same as your Children's National network ID (i.e., the first part of your CNH email address) and you will not need a separate password for OnCore as we utilize SSO!

For first time access to OnCore,   please submit a request via the REDCap Support Request survey to activate your account.

Transitioning to OnCore

Children's National has partnered with Advarra and Huron to implement OnCore enterprise wide. OnCore will be implemented with a phased rollout approach that we expect to take 18-24 months. 

The implementation will be split into two go-lives:

WHO-WHAT-WHEN     

PHASE I - FOUNDATIONS     
PHASE II - FINANCIALS    
END USERS
Study Teams
Study Teams GCAF
SCOPE                     

Legacy: Actively enrolling studies or closed studies with active subjects as of January 2022.

New Studies: All prospective studies that meet the NIH definition of clinical research.

Legacy: TBD

New Studies: All new studies with a billing risk or billable study-driven procedures.

FUNCTIONALITY

Protocol and Subject Management SAEs (Investigator-Initiated Trials only)
Cerner EMR and PowerTrials Integration
IRBear 2.0 Integration

Subject Calendars
Coverage Analysis and Budgets
Sponsor invoicing and Receivables PeopleSoft Integration

TIMELINE
Q1 2022
Q2 2022

Phase I End User Training Plan

Timeline 

Beginning in Q1 2022, groups of study teams will complete training on a rolling basis. Trainings will be held on Wednesdays at the main hospital or the new Research and Innovation Campus. 
Immediately following training, studies teams will enter all existing subjects to studies that have already been entered into OnCore by super user/backbuild resources.
Training/support resources will be available to provide hands-on support.
Following completion of training, study teams will manage all studies and subjects in OnCore.
Walk in office-hours will be held on Tuesdays and Thursdays.

Approach

eLearning modules will be assigned as prerequisites, followed by instructor-led, hands-on training. Training accounts in OnCore will not be activated until eLearning courses have been completed.
Training will cover technical system use, role-specific responsibilities, relevant policies and procedures, and highlights of operational changes. Protocol management, subject management, and reporting will be covered in the primary training session.
After all end-users have been trained, an advanced course will be offered virtually for super-users. 
A high-level webinar will be shared to the Children's National community to provide an overview of OnCore.

Coming Soon

This site is intended to familiarize you with OnCore and our implementation plan. This site will be updated on a regular basis, so please check back periodically. We plan to release the following as we move forward with implementation:

OnCore Guidance Documents & Tip Sheets
Children's National CRMS Policies & Procedures
OnCore Training & Support
Protocol Start Up
Administrative Requirements
OnCore Stats

Support

Need to request an OnCore account or need assistance troubleshooting an issue? Submit a request for help using our REDCap OnCore Support Request survey.

For other support needs, contact Sarah Anderson, Clinical Trials Management Coordinator, at CRMS@childrensnational.org.